I posted this once and I cant find it
I acquired a work shop that has 3 phase and sold all the machines out. Going to convert it to a garage to work on my classic cars and have a lift.
Long story short my sons an master electrician and when he gets some time off this summer he will work on this project. Basically he will run some pipe make the connections and do all the work. I purchased a transformer and a panel from a company that went out of business, cause I need 208v and for my new car lift, as well as 120 for some plugs and lights.
What I'm looking at is trying to impress my son the old man has it still. I used to do some electrical work back in the day in the Navy. This is different stuff, but as you know the old man still needs to prove stuff once in a while to the young bucks. I wanted to color code and wire cap the used wires and thats it the thing weighs too much for me to even look at. The wife would find me laying on the floor with a blown out disk if I tried to hook it up.
I just cant make sense of the wiring diagram on the transformer.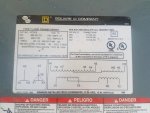 if I'm reading this H1, h2, AND h3 are my incoming 3 phase 480v. All the other H's are not used and are capped off.
x1 and x3 are my 208v hot legs
x0 is ground and x2 is neutral
I was going to wire nut the unused H's off and tape h1, h2 and H3 wires brown orange yellow. Then tape the x1 and x2 red and blue
thanks Dan