hi
I am new in this field and I have some basic questions in class 1 div 2 as follow:-
1-is it allowed to use plastic terminals in junction boxes to connect the wires.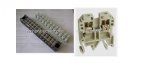 2-Can i use ul listed components like elbows,reducers in any place (except between the ex proof box and sealing fitting)??
3-can i use ex proof components that is certified for cl 1 div1 group A in cl 1 div1 group d ???
thank you.