Location
Occupation

Licensed Residential Electrician
Just hoping to get some feedback on the following scenario - a bucks boost transformer with various load currents.
I'm planning to install a buck boost transformer on a longer run of #12 w/ 20A OCPD, but the circuit is potentially going to have various load currents.
At the low end, it will be pulling 11.33A consistently. At the high end, for calculation purposes, I'm inputting the full 20A.
I quickly ran the numbers through an online voltage drop calculator (which may not 100% accurate, but just go with me on this) and got the following results...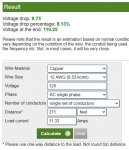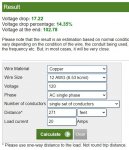 Then I took the results for both scenarios and plugged them into Square D's / Schneider Electric's Buck Boost Calculator and got the following...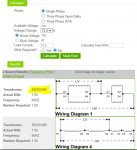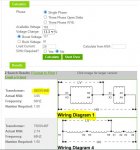 My plan is to go with the highlighted #500SV46B Transformer and the highlighted Wiring Diagram #1 on the top right for both scenarios.
Obviously the Schneider Electric Buck Boost Calculator makes different recommendations for different scenarios, but am I correct in assuming the highlighted transformer model numbers (i.e. #250SV46B and #500SV46B) are the same (if wired the same), just rated for different VA's?
So theoretically if I go with the #500SV46B for both scenarios, I should the get the same boost voltage (125v - 117v) as displayed in the calculators above in both scenarios despite the calculator recommending a 250 on the left? Correct?