I currently have four ATT 944 phones in my office - each carries four telephone numbers.
I wired each phone with cat 3 cable (four pairs to each phone, each pair carrying one telephone number). Each phone is a home run from the phone to interface box.
This works great.
Now, I would like to add eight more phones, each with the same four telephone numbers as the first four.
Home runs on these additions will be tough - the interface box terminals (red and green) are simply short metal terminals and they are getting crowded. (see photo) This is an analog system.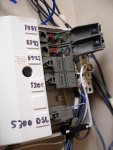 How would I put two or three phones on a loop, as opposed to home runs? What type of junction or connector can I use to splice the wires for the other phones in the loop?