Here's a test for your apprentices trying to bend conduit.
I learned this way, and it stuck. It is based on speed and how fast you can rough. Nobody can beat you if you can use as few steps as you can.
And, if your roughing 29 story buildings and bending thousands of feet a day, it all adds up.
If you don't care about speed, you will still learn something.
The picture shows two 1900 boxes, the distance as shown. Conduit supplied is a 10' stick.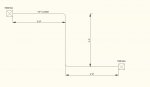 1 - You get to take out your ruler once, and only once.
2- Measure and mark your conduit for bending and cutting. Then, put your ruler away.
3- Cut the conduit as needed.
4- Bend the conduit.
Give this test to your best apprentices. You will end up with a bunch of "oh crap" pipe laying around.
Most can't do this without pulling their ruler out two to three times. That is where the speed comes in. And, less effort after 40 years can add up.