Good day, all.
I require assistance in determining how to
calculate
whether one transformer in a three phase star/delta bank is overloaded based on the line current on the delta side (load side).
I know that I can simply have a lineman take readings at the transformer at the X1 or X3 terminals, but I need to know how to calculate it.
So for example, let's say that the bank consists of 50,75, 50 kVA transformers, and the line currents on the delta (load) side are taken to be 256A, 294A, 341A, how do I work out the phase currents in the delta side of the transformer?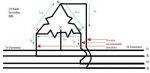 Thank you in advance.