hey guys im trying to make sure that i size my grounding conductors correctly. any and all help is greatly appreciated!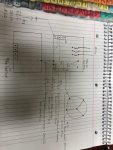 I have a Service entrance rated solid neutral automatic transfer switch fed from the secondary side of a 277y 480v utility transformer.
my automatic transfer switch feeds a panel with a 400a ocpd.
I have 250kw genset with a 300a ocpd feeding to gen side of automatic transfer switch
in my automatic transfer switch I will Bond my Grounded and grounding conductors.
I will isolate grounds and neutral conductors at the 400A panel.
I will also isolate my neutral from the frame of the generator because this is a non separate derived system.
1 G.E.C- should be sized based on 250.66 - runs from bonded neutral bar inside of ATS to the ground rods in the earth
2. supply side bonding jumper based on 250.102(c) runs from neutral bar to the ground bar inside of ATS
3. Main bonding jumper based on 250.102(c) runs from ground bar to the frame of ats
4. equipment grounding conductor sized based on 250.122 runs from frame of ats to the frame of the 400A panel
5. equipment grounding conductor or supply side bonding jumper? sized on 250.122 or 250.102 (c) runs from frame of genset to the groundbar of ATS