I have a 1600 amp switchboard that was installed in the 1960's. We're installing an ATS upstream of the switchboard. The existing conductors are parallel (2 per phase) 1000 MCM copper. When we install the ATS I'm planning to replace these conductors.
The utility demand is 272 kw (838 amps, 208 VAC, 3 ph, 0.9 pf(assumed)).
220.87: 838 x 1.25 = 1049 amps. So my existing parallel 1000 MCM are okay load wise but I can't use the next size up breaker so I'm limited to 1000 amps, no good.
These conductors come in under ground through the building foundation in two 5" Conduits.
I'm wondering if I can penetrate the switch board in another location (legally) to bring in a different combination of conduits and conductors. I don't have any paperwork on the switch board. Can I come in the side of the same compartment the conduits currently enter but on one side?
I don't know how many conductors I can land on each of those bus angle pieces (not sure what they are called?). Any idea?
Thank you. (hopefully photo made it through)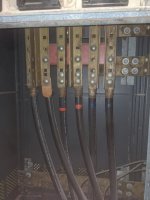 Last edited: