Location
Occupation

Electrical Contractor
680.42 (B): equipotential bonding of perimeter surfaces around a spa.
It says the same bonding requirements apply as if the spa were a pool, EXCEPT if all of the following apply:
[conditions (1), (2), (3), and (4)]
The fourth condition is that the top rim of the spa or hot tub has to be at least 28 inches above all perimeter surfaces within 30 inches horizontally from the spa or hot tub.
All surfaces? Or just conductive surfaces? Here's a picture of where they want me to connect the spa: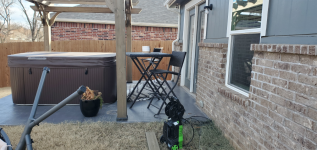 Those wooden columns are within 30 inches of the spa, and it would not be possible to move it so they aren't. So, a spa can not be installed there unless the wooden pergola is removed? Or, do the wooden columns not count as surfaces for the purposes of this code section?
Seems like both of the other potential spa locations I've looked at recently also have vertical surfaces next to the spa. The first one had too many other things that were wrong, so I declined to take the job, but I have another job I would like to take, with a wooden fence next to the spa location.