My boss just got a free fluke scopemeter from an electrician who retired. It's a portable oscilloscope basically. My boss asked me to figure out a way to make money from this meter.
Does anybody any ideas? I think this can be used to diagnose motors/generators, but I can't really think of anything else.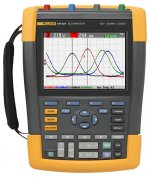 What services would you provide using this tool to make money?