Throughout my career I have always just done what the print has said.
Thus never took the time to really understand sizing a residential panel. So, I had a panel today, a pretty standard 200A using 4/0 Al feeders.
It's very full with sev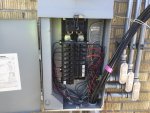 eral half sized breakers and only 2 legit spares. The homeowner wants to add TWO 100A subs for an addition. My gut tells me this is not correct, but calculation wise, I'm not sure why. Here is pic of the panel. I'm very sorry, but I cannot seem to attach it in a bigger size. And I'm very upset with myself that the pic just randomly appears wherever it wants. I'm sure more info is required also however I'm not sure what. I hope I was able to describe my situation adequately. Thank you all.