Some rotten person crashed into my brick column and took off.:rant:
When its rebuilt, I'd like to add a pier mount light like this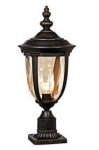 to the limestone pillar cap.
I am not familiar with how to do the install on one of these. I already have a mc power whip inside the brick, but what size box should I use for (what I assume is) a 5 1/2" square base like this?
When I order the limestone pillar cap, should I request they pre cut a 4sq hole, or would I just chisel it out with masonry bits and insert a pancake box?
How would you go about this?