BIG "discussion" going on about sizing conductors from a junction box to an inverter. There are multiple stings of 12+ modules with Solaredge optimizers with a max Imax of 15A. This is a CONTINUOUS current. PV wire in free air is used for the strings to J-box. From the J-box conductors are run in a single conduit after changing to THHN-2. Here is where the "discussion" gets interesting. Do you apply 210.19(A)(1)(a) (125%) to the conductors for continuous current? This is in addition to applying derates for conduit fill and temperature above the roof.
For example: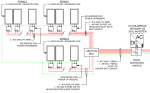 15A x 125% = 18.75A if applying 210.19.
Next, #10awg @ 90C = 40A
Temp at .5" above roof (Phoenix) = 122F + 40F = 162F =0.50 derate
40A x 0.50 = 20A.
6 conductors in a conduit = 0.80 derate
20A x 0.80 = 16A
16A < 18.75A, so #10 is too small. #8awg would work. HOWEVER, if the application of 210.19 isn't necessary, then #10 would work. Does 690.8(A)(3) apply or even 690.9(B)?