Location
Occupation

Electrical Contractor
Summary (TL;DR): I built-out a small box truck to use a service vehicle because every other type of truck I have tried sucked in some major way. I may have created the ultimate residential service vehicle.
This is a continuation of
this thread
where I contemplate buying a box truck to use as a residential/light commercial service vehicle. A box truck is an unusual choice for a service truck. I've never seen a local electrician using one and a search of the internet finds few electricians using them. The high roof van seems to be a popular choice now. I looked hard at these, but ultimately decided I had to try the box truck idea. After months of looking I found a lightly used small box truck at a reasonable price. I'd like to show you how I renovated and upfitted it.
This truck was manufactured by Ford in 2013 as a cutaway E350 van. The cargo box was added by Supreme. I was unable to determine the cargo capacity from either manufacturer so I took the empty vehicle to the truck scale. The GVWR for this truck is 11,900 LBS. The total weight of the truck including me and a full tank of fuel was 7100 LBS. A bit of calculating yields a cargo capacity of 4,800 LBS. I was relieved. I figured I needed a minimum of 2000 LBS.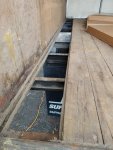 The truck was in overall good shape, but some repairs were needed before upfitting could begin. There were a few rotted deck boards and a small amount of wall plywood that was delaminated due to some water leakage in the roof seams. I replaced the wood. Then for good measure, I brightened up the interior with a couple of coats of Kilz. I got up on the roof and resealed the seams using clear Flex-Seal spray. I hope it's as good as the TV commercials make it out to be.
I've tried several service vehicle configurations in the past, but they never fully met my needs. Previous service vehicles (in order) were: 8' open bed pickup with cargo boxes; van with standard height roof filled with 18" shelving; 8' bed pickup with utility topper and bed slider. This last vehicle was not too bad convenience-wise. Everything was accessible from outside. No crawling in. It just didn't have enough capacity. It only held about 2/3rds as much material as the van.
This is my fourth try to get it right. My major design goals are:
Vehicle has to be small enough to park in a residential driveway.
Stand up access with a wide clear aisle i.e. no climbing over stuff and no crawling.
Able to hold all necessary tools and materials without compromises.
All materials and tools inside the cargo box i.e. no roof storage.
Heavy or awkward stuff (ladders, conduit, and spooled wire) readily accessible without climbing into truck.
Reasonable amortized purchase cost and reasonable operating cost.
Here is the as-built plan for the interior. I have spent considerable time optimizing the configuration to meet my design goals.
The biggest issue I had was with ladders. I need 6', 8', and 12' step ladders and a 12' extension ladder. The 12' ladders didn't want to fit nicely in a space only 11' long. I didn't like any of the options I thought of: build out a cab-over box; store the ladders on an upward angle; store the ladders on an across the deck angle; or pitch the 12' ladders entirely. I did some ladder research and found they now make fiberglass multi-function ladders. So I will be replacing the three 8', and 12' ladders with
this one.
It doesn't reach quite as far as I need, so I may occasionally have to stuff a bigger ladder in the box and have it hang out the open roll up door. I'd do the same if I rent a 16' stepladder.
This is my temporary conduit/wood stud/wiremold/strut storage. I've never had enough conduit storage space. The last truck had one 6" PVC tube. There were times I could have used three. My future plan is to build a five tier conduit storage box. The top tier will be open on top for storing short pieces. I just haven't decided the best material to use to build it yet. One built entirely out of plywood seems like it would burst open with all the weight even if I glued and screwed the joints.
<End of part 1. The story continues with part 2>
Last edited: