Gentlemen,
This is my first post on this forum. I have found it very informative.
I have a Doall bandsaw that requires 575 volt service. I have 480 in my shop.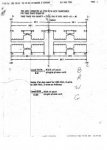 I an attempting to use to single phase transformers an connect them in an open delta configuration for a three phase operation.
The drawing is attached. I hope it is large enough for your all to be able to read.
This is all I have to go from. I have been unable to find the "proper instructions" for the connections.
Here is my understand of the drawing:
Line A connects to H4
H2 connects to H3
H1 connects to Line B and H1 from the second transformer
X1 connects to X3
X2 connects to X4
X4 to LOAD
Repeat the same steps for the second transformer.
Thanks for any help with this project.
Tom