Location
Occupation

Electricity
The NEC is NFPA 70.

There are lots of places where the NEC uses text that has been extracted from other NFPA documents.
When that is done, a reference to the other document is shown in [...] after the extracted text. There are a number of cases of this in Article 517. Here is one example.

The first number in the brackets is the NFPA document that the text has been extracted from. In this case it is NFPA 99, Heath Care Facilities Code. The remaining numbers shown in the brackets, is the section where the text is located at in the original document. Note that most of the other NFPA document use a different numbering system for sections as compared to the NEC.

Where extracted text is used from another document in the NEC, the NEC technical committee is not permitted to make any technical changes in the text and the purview of the text remains with the original technical committee for the other document. A proposal to change extracted text shown in the NEC cannot be made to the NEC technical committee and must be made to the technical committee that has purview. So if someone wanted to change the definition of Life Safety Branch in the NEC, they would not submit a PI to NFPA 70, the NEC, they would have to submit the PI to NFPA 99, the Health Care Facilities Code.
There are times where the extracted text in one document is out of sync with that in the original document as a result of differing code cycles.
I guess the reason we are so befuddled about the definition of "life safety" is that the 1971 NEC and 1971 TCR PDF graphic says that the Life Support Branch can be combined with the Life Safety Branch:
However, in the same 1971 TCR (and NEC) it says that the Life Support Branch may be combined with the Critical Branch if the AHJ approves:
The original 1971 ROP PDF lists Life Safety Branch however: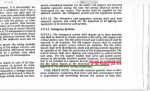 The Question is, why the back and forth? What was the debate about? It looks like originally the CMPs were on board with likening the branch to Life Safety but then changed their mind at the last minute.
Further, there appears to be debate about what this branch may feed. They talk about "power centers" "safe patient power centers" "isolated power systems" only, to "power systems" in a list of locations.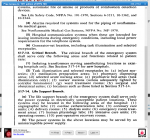 As I understand it the critical branch does not receive the same level of fire protection as the life safety branch which makes me think Life Support is of higher priority than a critical branch. At least originally. And why did latter version of the code ditch the concept of Life Support, in a hospital?